Nice and big, specifically in the title, so as not to get ANYONE excited!
I will be VERY surprised if anyone gives a rats ass about this week's .. um.. "game".. but here it is anyway.
"Made for my cookie", although it's not a cookie anymore.. it's a viewty.. this J2ME Java App will allow you to play along with a real-world game of scrabble.
See, lately I've been playing a LOT of Scrabble.
I bought a ??40 "Scrabble 60th Anniversary Edition" set, thinking it's be all nice and lovely.
Here are my list of complaints about that board game.
1) Everything is made from a nice transparent green coloured plastic. Means the board, the racks, the tiles and everything looks fantastic.
BUT.. You put the tiles in the rack, and if you look hard enough, you can usually figure out what tiles the other player has.
FFS!! Could they not have foreseen that!!
2) The bag, for whatever bizarre reason, has the drawstring on the INSIDE of the bag.
This means that you consistently have to fight with the drawstring whilst trying to dig out a letter or two.
FFS!! Could they not have foreseen that, either!!
3) When I've paid fourty bloody quid for a board game, I damn well expect it to include a bloody pencil, and a bloody pad of scoresheets, you cheap ass bunch of gits.
FFS!!!
Well, here's one solution to that.
Tap the square, tap the letter, fill in the grid, score your words.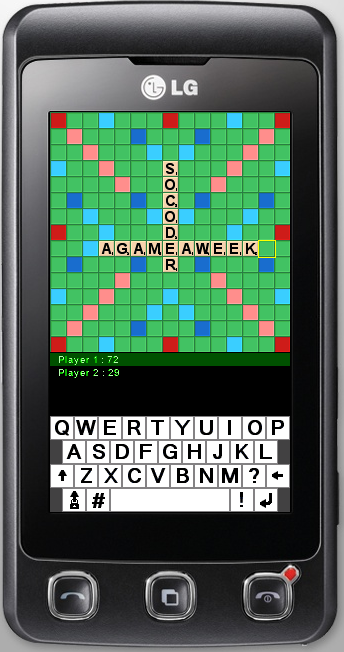 Currently only works for "Player 1" and "Player 2", and doesn't have an undo, so be careful what you're entering..
Also doesn't word-check, either.
But it will tot up the scores.
And if you tap on "Player 1" or "Player 2", you can see their per-word scorelist, which is nice.
You can
Download Scrabble Scorepad here
, and give it a whirl, so long as you have a touchscreen, J2ME compatible device.. !
Additionally, you can
Buy the Collin's Scrabble Dictionary here
, which I got the other day, and I must say it's very very good! Unlike the old "Scrabble Word Lists" books, this one is indeed a dictionary, so you can finally figure out wtf those random words actually mean!! A great buy, especially for the price.
Views 162, Upvotes 12
Release