As mentioned the other day, whilst sorting out all the PRC2 stuff, I first created Sokoban for windows, using Blitz.
So here it is.
Nothing special.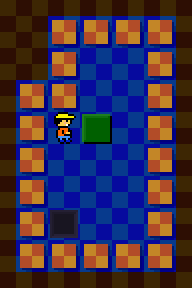 A is the hard pack, B is the easy one.
or as I like to think of it..
A is really hard..!
..
And so's pack B.
B's meant to be "For children and beginners", but I could only get up to level 11!
*sigh* I suck at sokoban!
All levels are from
David W Skinner's Sokoban Level Site
, and there's plenty of 'em.
You can
Download Mini Sokoban here
, and get in some practice before PRC2 turns up.
Views 47, Upvotes 2
Platdude Retro Collection 2